Student Leaders
President
Tucker Brown
Philadelphia, PA
My name is Tucker Brown and I am very excited to serve on the Student Section board as President! I am currently a third year medical student at Thomas Jefferson University interested in Family Medicine perhaps with a focus in caring for older patients. I am blessed to have been raised Catholic and even more blessed to have been called back into the fold after having fallen away. The Catholic Medical Association has been a big part of my life in the Church seeking and following Jesus. Through Him we have been blessed with an abundance of life and it is my hope that we may share it more and more with our patients and colleagues through our profession. Please email us at students@cathmed.org if you have questions, need support, have an idea, or just want to say hello; and include my name so I'm sure to see it! God bless you.
---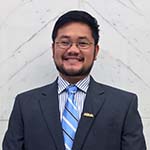 Vice President
Michael G. R. Padilla
Oak Forest, IL
Hello brothers and sisters! My name is Michael Padilla, but everyone calls me Mikey. I am a third year medical student at Midwestern University Chicago College of Osteopathic Medicine and loving every bit of it. I grew up in Columbus, IN, the architectural Mecca of the Midwest as the oldest of three first-generation Filipino-Americans. I spent my undergraduate years at DePauw University in Greencastle, IN and walked out with a BA in Biochemistry and a BM in Vocal Performance. Thereafter, I obtained my MS in Biology from Indiana University – Purdue University in Indianapolis where I encountered the New Evangelization (and my fiancée) through the Fellowship of Catholic University Students (FOCUS).  FOCUS provided the relationships and community to allow myself to be vulnerable with Christ and humbled by His Love. In times like these, relational love with Jesus provides unending hope and joy, and I am blessed to have the opportunity to share that hope and joy with the CMA-SS. Jesus, teach us how to love. Jesus, teach us how to serve.
---
Secretary
Samantha Drapac
Indianapolis, IN
Hello everyone! My name is Samantha Drapac. I am a second year medical student at Marian University College of Osteopathic Medicine in Indianapolis, and I love it here! I have moved around a lot in my life and the Catholic Church has always been a home for me. I was born in Chicago, grew up in Minnesota, moved to Virginia in high school, attended the University of Virginia for my undergrad, and then moved to Nashville, TN to work at Vanderbilt University as a FOCUS (Fellowship of Catholic University Students) missionary. I am the second oldest of seven kids (6 girls and a boy 😊)  and love being part of a big family! My love for the Church and my desire to share the truths of the Catholic Church with others grew when I was in college, and I'm praying that it continues to everyday. I am blessed that God called me to serve as the secretary of the CMA this year! You are all in our prayers!
---
Treasurer and Communications Director
Anna Purzycka
Troy, MI
My name is Anna Purzycka. Since my family is Polish, everyone calls me "Ania." I am a second year student at Marian University College of Osteopathic Medicine in Indianapolis. I grew up in southeastern Michigan, then spent four years seeking the good, true, and beautiful at Hillsdale College. At Marian, I am a part of our CMA chapter and enjoy volunteering at a local hippotherapy facility. Between dreaming up some faraway adventures and studying, I enjoy having friends over for tea and conversation. After experiencing the wonderful community at the CMA Student Boot Camp, I wanted to help facilitate the formation of a community of Catholic medical students who can share their experiences, seek and give support, encourage and pray for each other, even if at a distance.
---
Technology Officer
Luke Bramlage
Beavercreek, OH
My name is Luke Bramlage and I am currently a student at Wright State Boonshoft School of Medicine in Dayton, Ohio.  I have lived in North Carolina, England, California, and Ohio.  Through our moves, I knew that wherever I was in the world, I would always have a home at the local Catholic Church. The beauty of how Mass is always the same on any given day in any given place is how I first fell in love with the Church.  After graduating from THE Ohio State University, I was fortunate to go to a school with a strong Catholic medical student group.  I found out about the CMA Medical Student Boot Camp through this group and am so grateful I attended because I met fellow Catholics in similar situations, trying to live their faith to the fullest.  Ever since this great experience, I have loved being involved in CMA events which both stimulate thought as well as promote change.  I am honored to be involved in the student section board and am excited to help grow this already vibrant community! All prayers are welcome.