Upholding the principles of the Faith. Advancing the profession of medicine.
The Catholic Medical Association helps physicians grow in the spirit of Christ in their personal and professional lives, so they can bring His Spirit to the science and art of medicine.
Learn More
RECENT UPDATES
HUSH, Directed by first time, Indo-Canadian female director Punam Kumar Gill, has the potential to be the most explosive and... Read More
The CMA was dismayed and saddened by the June 27, 2016, Supreme Court decision against basic safety requirements for Texas abortion clinics.
The CMA urges health care professionals to adhere to genetic science and sexual complementarity over ideology in the treatment of gender dysphoria (GD) in children.
Become a member
The Catholic Medical Association (CMA) is the largest association of Catholic individuals in health care. We help our members to grow in faith, maintain ethical integrity, and provide excellent health care in accordance with the teachings of the Church.
JOIN CMA
Donate to CMA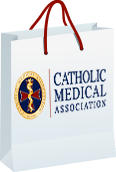 Branded apparel & accessories
Conference CDs & DVDs
CMA Publications & More
SHOP NOW